Active from 25 OCT until 27 MAR
| Day | Flight number | Departure airport | Departure time | Arriving airport | Arrival time |
| --- | --- | --- | --- | --- | --- |
| MONDAY | C3811 | OSIJEK | 6:30 | ZAGREB | 7:25 |
| | C3812 | ZAGREB | 7:55 | OSIJEK | 8:50 |
| | C3815 | OSIJEK | 9:20 | PULA | 10:45 |
| | C3815 | PULA | 11:15 | SPLIT | 12:10 |
| | C3818 | SPLIT | 12:45 | PULA | 13:35 |
| | C3818 | PULA | 14:05 | OSIJEK | 15:30 |
| | C3813 | OSIJEK | 16:15 | ZAGREB | 17:10 |
| | C3814 | ZAGREB | 21:15 | OSIJEK | 22:10 |
| TUESDAY | C3819 | OSIJEK | 9:00 | RIJEKA | 10:20 |
| | C3821 | RIJEKA | 10:50 | SPLIT | 11:45 |
| | C3821 | SPLIT | 12:20 | DUBROVNIK | 13:15 |
| | C3822 | DUBROVNIK | 13:45 | SPLIT | 14:40 |
| | C3822 | SPLIT | 15:10 | RIJEKA | 16:10 |
| | C3820 | RIJEKA | 16:40 | OSIJEK | 18:00 |
| WEDNESDAY | C3811 | OSIJEK | 6:30 | ZAGREB | 7:25 |
| | C3812 | ZAGREB | 7:55 | OSIJEK | 8:50 |
| | C3813 | OSIJEK | 16:15 | ZAGREB | 17:10 |
| | C3814 | ZAGREB | 21:15 | OSIJEK | 22:10 |
| THURSDAY | C3819 | OSIJEK | 9:00 | RIJEKA | 10:20 |
| | C3821 | RIJEKA | 10:50 | SPLIT | 11:45 |
| | C3821 | SPLIT | 12:20 | DUBROVNIK | 13:15 |
| | C3822 | DUBROVNIK | 13:45 | SPLIT | 14:40 |
| | C3822 | SPLIT | 15:10 | RIJEKA | 16:10 |
| | C3820 | RIJEKA | 16:40 | OSIJEK | 18:00 |
| FRIDAY | C3811 | OSIJEK | 6:30 | ZAGREB | 7:25 |
| | C3812 | ZAGREB | 7:55 | OSIJEK | 8:50 |
| | C3815 | OSIJEK | 9:20 | PULA | 10:45 |
| | C3815 | PULA | 11:15 | SPLIT | 12:10 |
| | C3818 | SPLIT | 12:45 | PULA | 13:35 |
| | C3818 | PULA | 14:05 | OSIJEK | 15:30 |
| | C3813 | OSIJEK | 16:15 | ZAGREB | 17:10 |
| | C3814 | ZAGREB | 21:15 | OSIJEK | 22:10 |
TICKET PURCHASE
Want to buy a ticket for Trade Air flight?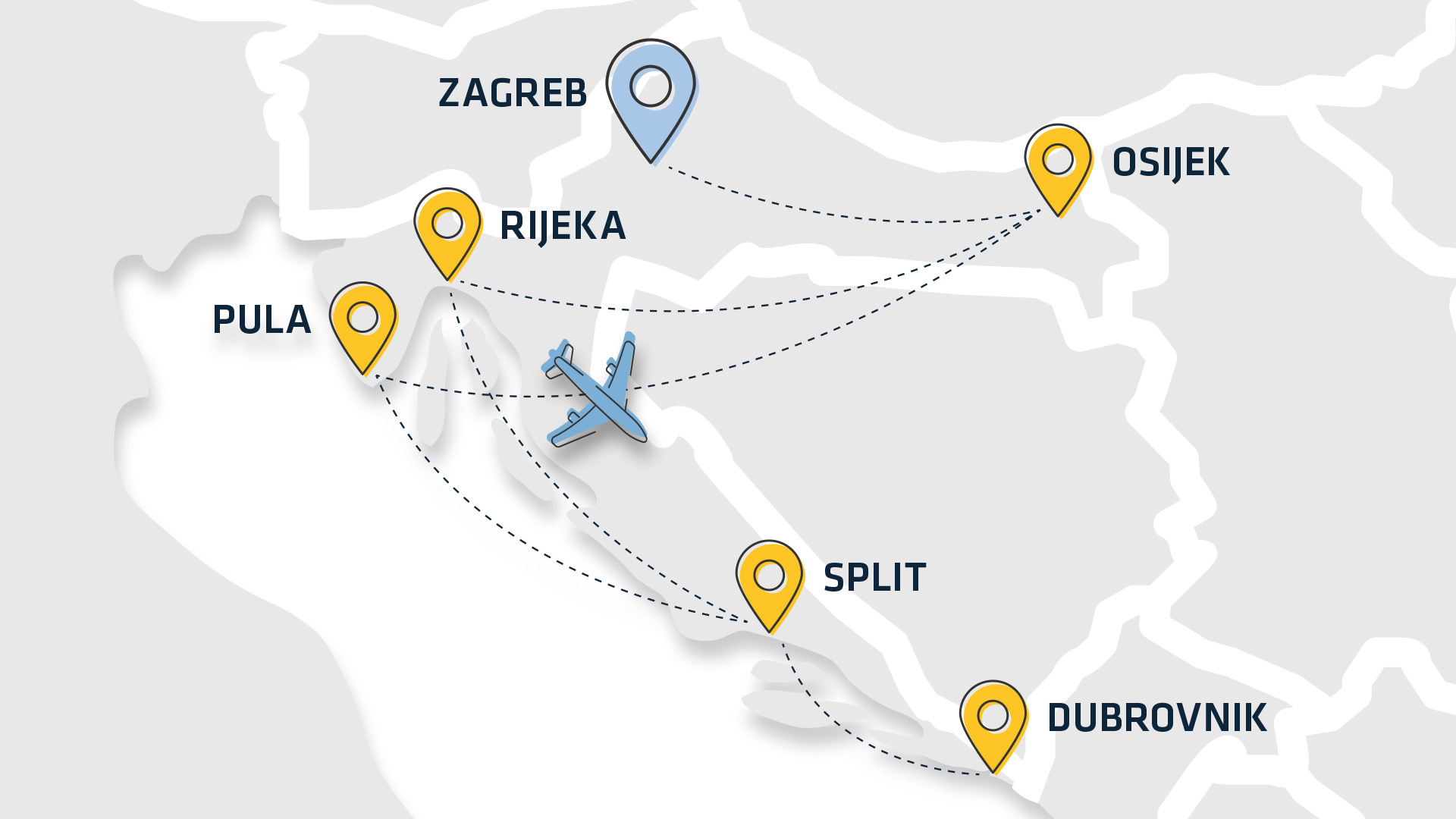 Passengers contact center
Working hours of Passenger contact center is from Monday to Friday, from 08.00 to 16.00. During weekends and holidays, Passener Contact Center is not available.
Your opinion is important to us. Whether you have suggestions or comments, leave a message and contribute to the improvement of our services. We will be happy to consider all your ideas.
If your flight has been delayed or canceled, or there has been an irregularity with your luggage which is why you are not completely satisfied with your trip, send us a request with all the information.