NOTICE TO PASSENGERS
Dear passengers on Trade Air international flights, we hereby inform you that Trade Air company does not have access to your bookings on flights to/from Ljubljana, to/from Innsbruck, to/from Paris, and to/from Pristina. Any questions you have about mentioned flights, tickets, COVID19 information, changes in your travel, we kindly ask to contact Travel Agencies you pruchased ticekts from, or directly contact our partners which are published on this page under section "Charter Flight Network".
Dear passengers on Trade Air domestic flights, all information about schedule, ticket prices, luggage restirctions and other travel preparation info are published on this site and inside booking window.
On this site you can find all information regarding the travel on Trade Air flights from the passengers' perspective. Trade Air operates scheduled flights within Croatia, for which it also offers the purchase of tickets through the reservation calendar, and charter transport, for which there is no possibility of individual purchase, but it is necessary to contact the aircraft lessee, on whose behalf the flight is organized.
NOTICE OF REGULAR FLIGHTS WITHIN CROATIA
Dear passengers, Trade Air will operate on domestic routes until April 29th 2022. After receiving confirmation from relevant authorities, we are planning to re-establish operations during this summer season. In May there will definitely be no flights. Once when booking is available again, we will publish news on our website and social media. Thank you for understanding.
TRADE AIR DOMESTIC FLIGHTS
Want to buy a ticket for Trade Air flight?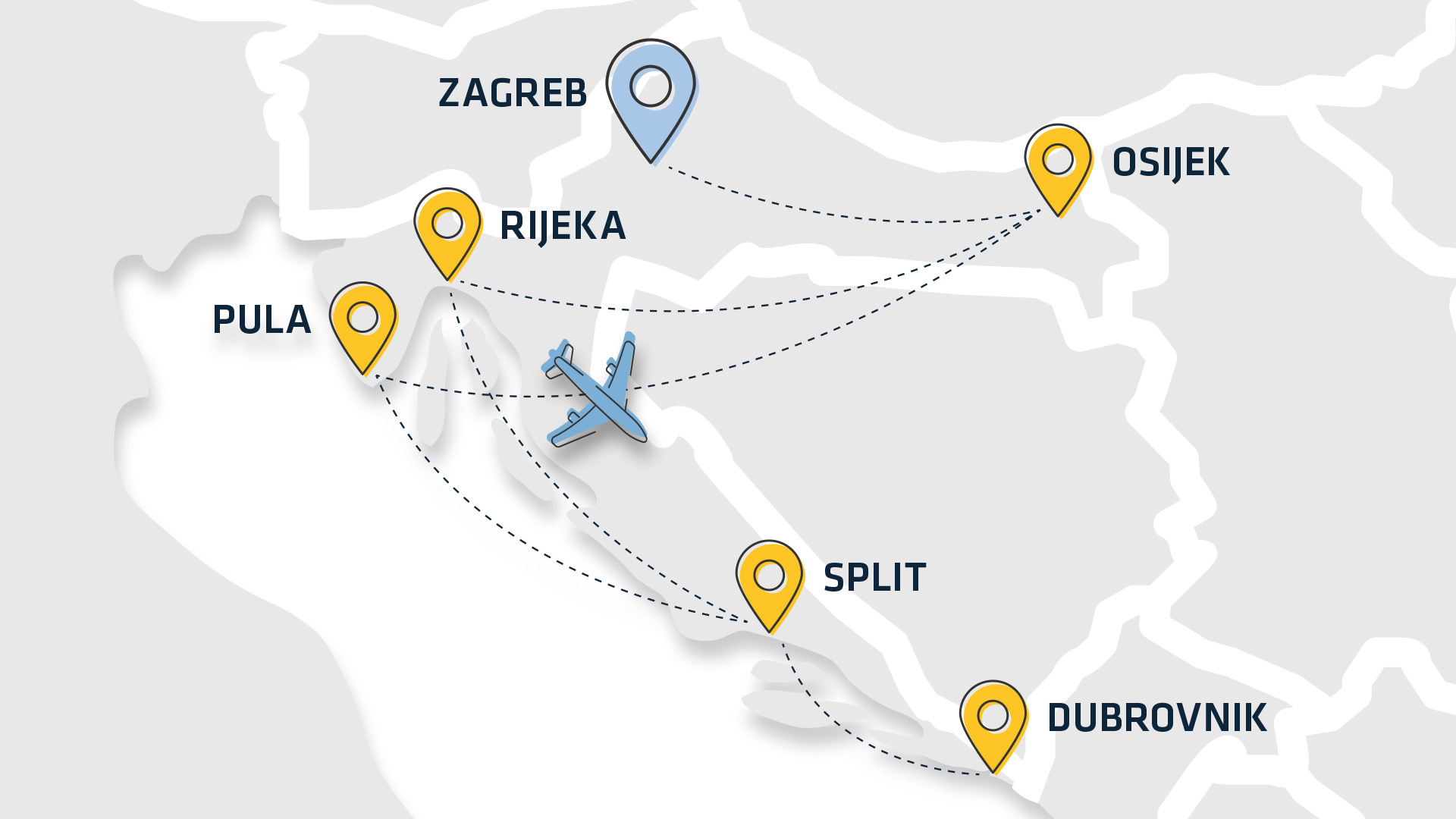 During the whole summer season of 2022, Trade Air company will operate charter flights in cooperation with its partners throughout Europe! Fly with us to one of the many popular destinations through the package arrangements of our associates.
For any questions regarding the trips listed below, ie flight dates, the purchase of tickets and travel conditions, please contact the contacts below!
We fly from Ljubljana to various destinations in Greece, Egypt, Turkey, Spain on an A320 aircraft with a capacity of 180 seats. You can view all the details of these arrangements on the pages of our partners: PALMA SLOVENIA, RELAX SLOVENIA, KOMPAS SLOVENIA
We fly from Innsbruck to popular destinations in Italy and Greece on an F100 aircraft with a total capacity of 109 seats. For all the details of these arrangements visit the pages of our partners: www.idealtours.at.
With the A320 aircraft with a total capacity of 180 seats and A319 aircraft with total capacity 144 seats, we fly from Pristina to various destinations throughout Europe (Sweden, Germany, Netherlands, Denmark). For all the details of these arrangements, visit the websites of our partners: www.flyrbp.com.
Passengers contact center
Working hours of Passenger contact center is from Monday to Friday, from 08.00 to 16.00. During weekends and holidays, Passener Contact Center is not available.
Your opinion is important to us. Whether you have suggestions or comments, leave a message and contribute to the improvement of our services. We will be happy to consider all your ideas.
If your flight has been delayed or canceled, or there has been an irregularity with your luggage which is why you are not completely satisfied with your trip, send us a request with all the information.